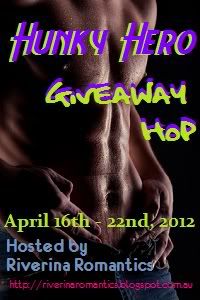 HUNKY HERO HOP WINNER:
Krista
Thanks to the ladies at Riverina Romantics for sponsoring this hop!
This is the perfect opportunity to spotlight my hunky heroes. What better way to describe these guys but with descriptions from their lovely heroine's point of view. I hope you enjoy some sweet eye candy and tasty little excerpts!
My first hero is MAROONED IN MIAMI's Jason Royce. Here's what happened when Stephanie first laid eyes on Marooned's handsome hero:
"How about we chance it together?"

She spun around to see the source of those words that washed over her like a slow moving current. Stephanie's breath caught when she turned toward the source of the silky voice. His eyebrows raised and waited for an answer to his question. His lips curled to showcase his straight white teeth. He appeared out of nowhere; surely she would have noticed him in the lobby. A day's growth of dark stubble covered his chiseled cheekbones below dangerous blue eyes. Stephanie's heart raced, while she imagined her fingers combing through his dark wavy hair.
BTW, Jason and Stephanie will be back this summer in Marooned's sequel, LUSTED IN LAS VEGAS!
 **********
Next up is William Locke from my new novella, SARA'S SMILE (May release from Bradley Publishing). Here is a snippet from the beginning of the story:
A familiar voice drew Sara Wiley's concentration from her Blackberry to the crowded Fifth Avenue corner where she stood waiting for the crossing signal to change.

A quick scan of the sidewalk revealed the source. Her eyes locked on a back view of broad shoulders outlined under a slate grey suit jacket. Gazing upward, she recognized the head of dark hair that skimmed the top of his collar. Sara sucked in a breath and her heart quickened. There was no mistaking the confident stance as he talked with the man standing next to him. Unable to speak or move from her spot beneath the street sign as the light changed, Sara simply watched as he was swallowed up by the crowd.
 **********
Here's my newest hero. Meet THE SATIN ROSE EXPERIENCE's Asher Cane. My SRE short story was just chosen for Evernight Publishing's cyber anthology, Keyboards and Kink! Look for the antho release sometime in June.
The doors opened and she stepped out into a sanctuary. Dim lighting and soft, tantalizing music embraced her senses. The butterflies in her stomach worked overtime as she scanned the floor and her eyes met Asher's. His dark hair hung loosely to his shoulders and a hint of stubble peppered his chiseled cheeks and strong jaw. His broad, squared shoulders filled his perfectly tailored suit jacket. Mia gaze traveled from his deep chocolate eyes to linger on his mouth.
 **********
I can't take credit for this last hero. He is Jon Cripps from Claire Gillian's The P.U.R.E. This is Claire's debut novel which released this week! I'm in the middle of reading this one and it's indeed a page turner. I just adore the chemistry between Jon and Gayle. Romance, mystery, intrigue and office humor all rolled up into a really fun read, you should check it out!
Before me stood someone I barely recognized. Someone with powerfully broad shoulders, and a taut, muscular stomach. Someone who obviously worked out. A lot. Bench presses, sit-ups and preacher curls, oh my! His chest displayed enough hair to label him a man, not a boy nor a gorilla.
Now that you've met a few hunky heroes, tell me which one you liked the best and why! One winner will receive their choice of a $10 Amazon or B&N gift card.
Don't forget to leave your e-mail address and to stop at all of the blogs on the hop!
Following is sexy!
Follow me on Twitter
@sandrabunino